Wheee, I'm in EGM!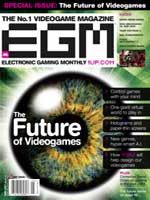 OMG. I'm in EGM! Rilly! For finally accessing the Sheng Long fight in Street Fighter II! 14 years of work is over!
Ok, not really for the Sheng Long thing. This month's issue is all about the future of games, and while I've got some choice words for a few of their ideas, who cares, I GOT UNSOLICITED PRESS!
I think this is the first time I've shown up in a magazine without knowing it was gonna happen. Someone from the IGDA Sex in Games Mailing List posted about it, which is how I found out.
It's a tiny, tiny blurb in a part of the magazine about sci-fi movies and their real world counterparts. Lists things like CAVE systems vs. the Star Trek Holodeck and 3D Displays vs. Star Wars. Here's the part of the article I'm in:
The flick: Demolition Man (1993)

The flicktion: In the future, people no longer kiss, touch or watch The Notebook together. Instead, they have VR boom-chicka-boom-chicka. When Stallone asks Sandra Bullock to do it the "old fashioned" way, Bullock responds, "Ew! You mean...fluid transfer?".

Reality check: Kyle Machulis, a "teledildonics" researcher, invented the SeXbox in 2005. It goes beyond hi-def nudity to actually reach out and touch special someones in their special places with a homebrew dildo doohickey. More recently, Machulis wrote a programming script that lets denizens of the PC virtual world Second Life use a "trance vibrator" to, er, titillate one another. That's one peripheral we won't be sharing.
Holy. Fucking. Fuck.
THAT RULES.
I CAN NOW ADD GAME MAGAZINE (THAT I WAS NOT SPECIFICALLY INTERVIEWED FOR) FAME TO INTERNET FAME.
Time to break out the hookers and blow.
Except I haven't quite reached the level of fame to afford hookers and blow.
I guess furry porn and twinkies will have to do.