Meat Tenderizer
Sometimes, you're wandering through Bed, Bath & Beyond, and you see things. Things that are supposed to be at BB&B, sure. But, there are ulterior motives. Obvious ones.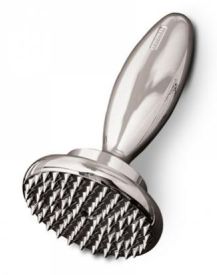 Now, here's the webpage's description for it:
Two-in-one tool has a spiked surface for tenderizing, a flat surface for pounding cutlets and chicken breasts. Chrome-plated zinc. 3"Dia. x 6"H.
So, the bottom reverses. The top has a flared, rounded handle.
For those of you who just missed the obvious train, what you're looking at here is an incredibly cheap metal buttplug with possible fetish play capabilities.
Flip the flat side up, you've got a nice, weighty metal plug that looks nice. Put the spikey side up, and you've got a plug with a acupressure base, perfect for training or just a new and interesting sensation. I don't think I'd recommend you use it for pounding food-grade meat after that, though.
Just wait 'til your next trip to a cooking store.
As a wise man once told me, "It's all about how you look at things."