MMOrgy: Second Life Tour: Haz Pazaar
Originally written by sumatrae for mmorgy.com
If the phrase 'How about a nice massage?' makes your sphincter shut tighter than a timelock in a bank you'd best skip this entry.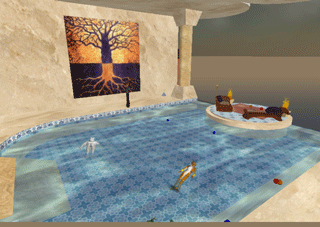 But if you're like me (and I know I am) then let me regale you, fellow traveler, about my visits to a place in Second Life where the men are men and the women are alone.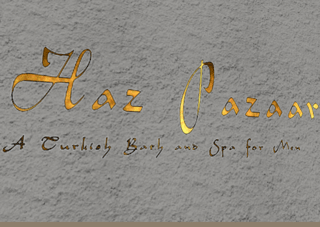 There's a region of Batak that houses a palace of delights - harkening back to the mystical times where loinclothed servants hand-peeled grapes for their Pasha and bellydancers tantalized the harem with their swaying hips.
_Wait, is that a bulge in that bellydancer's outfit? _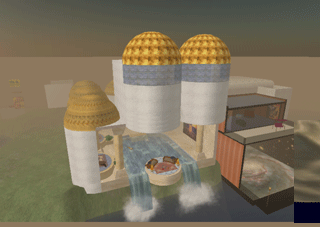 Haz Pazaar is modeled after a real, gay-positive turkish bath-house with gorgeously rendered detail right down to the high, domed ceilings and marble floors. The 2000 square meter facility is as vast as it is lush. Each part of the bath-house is modeled to cater to the patrons' different needs:
The main bath for central congregating and massage...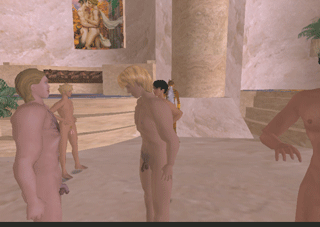 The hot springs and steam rooms for more...intimate gatherings...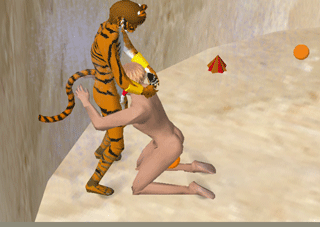 And even a veranda to purchase loincloths, sandals and other period clothing.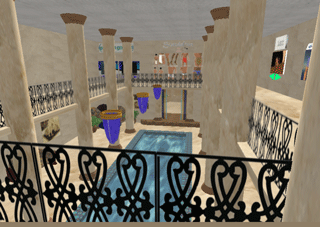 In my conversation with the creators of Haz Pazaar; Krysis Gall and Kamael Xevious met each other in a SL gay bar, each wanting to create a special place where gay and bisexual men could have plenty of public sex in a warm, male-positive setting. They became fast friends and thus the bathhouse was born. To keep the patrons happy, a simple caste system is available where submissive males can apply to become servants for Haz Pazaar clientele.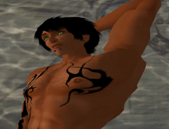 Krysis Gall

Kamael Xevious
Since its creation only a few months ago, Haz Pazaar is quickly increasing in popularity with pleasure seeking males and has many special events throughout the year. The recent Halloween party was a big success and there're plans to expand the building. There's even a new themed S&M club that K&K are working on...but I have to keep that under wraps, for now. Lets just say that hell is frozen over, shall we? 3